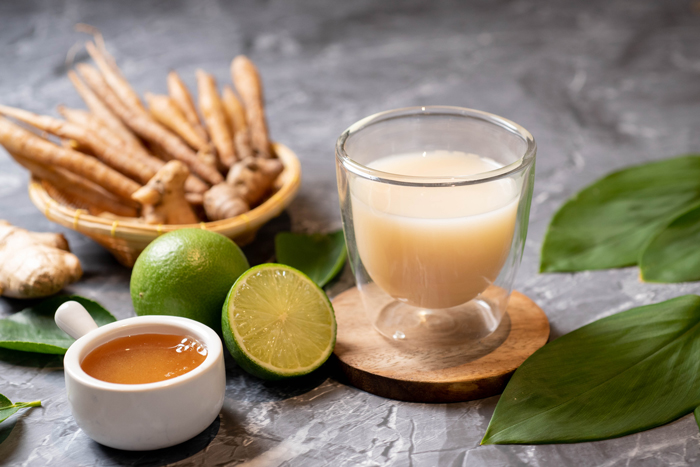 Kra-Shy(Boesenbergia rotunda) is a herb that has been with Thai people for longtimes ago. Properties help cure canker sores, mouth ulcers, sinusitis, relieve pain, help digestion, increase sex performance.
It was also found that Kra-Shy(Boesenbergia rotunda) has the effect of helping inhibit cell division of the COVID-19 virus .
Kra-Shy Herbal Drink Recipe
Raw Material
200 g fresh Kra-Shy(Boesenbergia rotunda)
50 g fresh ginger
10 leaf of Indian borage (Coleus amboinicus)
1 kg of brown sugar
1 liter of drinking water
Lemon
Honey
Cooking salt
Process of making herbal drinks
Wash the Kra-Shy and ginger thoroughly. Then cut and blended thoroughly.
Bring the water to a boil. Then add Kra-Shy and ginger to boil for 15 minutes.
Add brown sugar Stir until dissolved and set aside to cool.
Wash the Indian borage leaf thoroughly. Roughly chopped and blended with 200 ml water, only squeezed out the juice to use.
Measure out the Kra-Shy and ginger that have been boiled and put into a 40 ml glass. You can mix honey, salt, and lemon as you need.
Add ice, add 80 ml of soda water and 20 ml of Indian borage leaf juice.
Mix well and drink 1-2 times a day.